August to September 2016 was an extremely busy period. In August, Reload Bar and Games' Virtual Pinball machine was completed and demonstrated to the general public at the Big Boys Toys Expo in Canberra.
I received a lot of interest and feedback regarding the machine. It was very well received by the general public, and took in hundreds of players over the two days.
The machine itself is a wall mounted unit with a 20" screen and mini computer mounted into a custom frame. The pinball game itself is written in c++ using the fantastic Orx Portable Game Engine, a framework for developing 2.5D games.
The controller is a custom designed USB device that takes input from the arcade buttons, and outputs signals from the game to light the lights in the buttons on top of the controller.
A surprise to many players is the addition of ball bumping and tilt facility.
The week after the Big Boys Toys Expo, the unit was finally installed into Reload Bar and Games (located in Northbourne Avenue in Canberra). There it was well received by patrons. Huge thanks to everyone there for your encouragement and future suggestions which have been very helpful.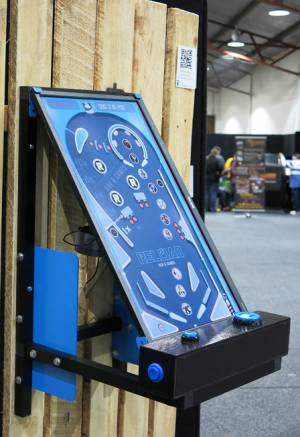 Immediately after Reload Bar's installation, Xero, the developer of the cloud based Accounting platform, confirmed interest in a unit for their upcoming Xerocon South 2016 in Brisbane. I had three weeks to develop it. Reload's machine took 9 months.
In this case, a wall mounted unit was not going to cut it, as this was to be a temporary portable amusement for attendees. I opted to use the opportunity to develop the table top version.
Three weeks later the unit, and the Xero branded pinball game was completed and shipped to Brisbane where visitors enjoyed playing it over the two day event. While there, I received a lot of interest as to the future of these machines and how available they will become.
Watch this space. There will be more machines.
Perhaps you'll see one at your local bar or social event.
If you are interested in more information regarding AAU Virtual Pinball Machines, feel free to contact me with any questions.