Table of Contents
Installing No Man's Sky v1.09 on the PS4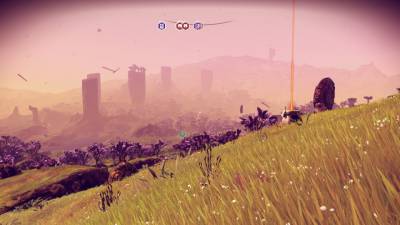 The PS4 and I have never been friends. The console was mostly for my son. But when I discovered No Man's Sky I started putting some hours into it myself. That was the v1.00 disc version.
Not knowing (or caring) about this game's controversial beginnings, I had no idea there had been a host of updates and changes to the game over four years. Plus an entire community wrapped around it.
I was starting to make some good progress into the game, slowly getting this crashed ship working again, visiting various locations and moving between planets. All was well.
That was until a bug surfaced in the game that stopped me from collecting blueprints. Additionally I discovered that jumping to another star system had serious consequences of being truly lost out there in the wilderness. At this point I started seeking help from the local community on Discord.
I wasn't keen to update the game as I didn't know how big the downloads would be, and I wasn't keen to put the console online anyway.
As it turned out, Legacy No Man's Sky was a thing. Many people enjoy playing older versions because it provides a vastly different experience to the newer editions.
How could I update the v1.00 version to something slightly newer and not have it update to the very latest?
I had some obstacles.
In the first place the PS4 was always kept offline. The main reason for this is that when we first bought the PS4, I installed a purchased Marvel disc, and downloaded Bound for my kids from the PS4 Online Store.
Being a house with only ADSL 1 at the time (Not everyone lives in Metropolis), the entire Christmas day was taken up waiting for the second game to download, while the first game performed sneaky updates in the background.
Not happy, Jan.
From that day on, the PS4 was locked off from the outside world, and I wasn't sorry about that. Problem is, the PS4 was now aware that it had been online once in it's miserable life. And from that day continued to prompt me to put it online… every… single… time.
So back to the point… could I get a specific No Man's Sky update downloaded on a computer and install it via USB?
Apparently not. Not allowed. You can do that with system updates, not game updates.
The relationship was not improving.
Ok, can you do it by hack/rooting the PS4? Apparently so. Great I'll do that.
Found the PSXHAX site with all the details of what to do. But this was not going to be easy. I'm going to be frank here. Gamers are known for their "leet skillz", but not for their ability to curate or produce documentation with much clarity. If you can stick it out and gain an understanding of some of the concepts, you're a better man than me.
But what I did come to understand was that my PS4 with a firmware of 6.20 was no good. Only PlayStation 4's with lower firmware versions could be rooted. Mine could not.
So I'll just have to live without. End of article.
But wait! I had checked on and off regarding rooting the PS4 over many months, even before playing No Man's Sky. And to my delight, the week after I got stuck in the game I discovered that an exploit had been developed for firmware 6.72, a newer version than mine.
Updating System Firmware to 6.72
Because I could update firmware via USB using an offline copy of 6.72, I followed the first 6 minutes of Modded Warefare's guide here: https://www.youtube.com/watch?v=ycZg0fViWv4 which helped me through the process.
It worked…. I now had firmware 6.72. Technically I could root the PS4 and try and achieve the goal of installing a particular version of No Man's Sky.
(Huge thank you to the developer(s) of this exploit. I sincerely appreciate the time and research put in to make this possible).
Finding the right Game Update Package
Next, I discovered the PS4 PKG Database https://www.ps4database.io which contains thousands of links to the official game update packages for all regions.
Unfortunately in my case the earliest No Man's Sky package version of 1.38 which is the Atlas Rises update https://www.nomanssky.com/2017/10/atlas-rises-patch-1-38
A bit too new and fancy for me. What else was out there?
Then I came across this little gem all alone on the internet written by GalacticXplorer: https://webshare.mattr.co.uk/ps4-old-pkg-urls/NMS.txt which listed "Vanilla" versions, the earliest being 1.09.
Score! Downloaded this.
(GalacticXplorer, a massive thank you to you for publishing this package link).
Exploiting the PS4 to allow a game update offline
As I said before, if I relied on trying to read through hundreds of posts and guides with varying accuracy on PSXHAX I was never going to get there. Or I would possibly run the risk of messing up the console.
Therefore I found this most excellent guide from Mario https://www.youtube.com/watch?v=xs4zXG2Jda0 clearly and professionally explaining how to download and install the firmware. In addition, it explains how to cache the exploit so that the PS4 can remain offline - yet still be activated whenever required.
The only time the PS4 needs to be online is to initially add the DNS entries which causes the PS4 Help Page to call out to the exploit online.
But Mario clearly covers all this.
Installing No Man's Sky v1.09
And again, using Mario's video I put the USB stick into the PS4 containing the v1.09 No Man's Sky package file. I ran the exploit to put the PS4 in root mode. Used the Debug/Game/Install Package menu to install the package.
The PS4 rebooted and I was amazed to check the option information on the No Man's Sky application and it showed v1.09.
And it worked! I started the game and was informed that the galaxy was regenerated. All my progress, however, my visited worlds and systems were all intact.
I can't express my delight in being able to take back control of the PS4 and be able to fully dictate the terms of what I update to, and when I update.
And so I continued on in my journey across No Man's Sky.
One thing that didn't change though was the galaxy map. You can still get hopelessly lost in the galaxy with little chance of ever finding your way home unless you sensibly plot your path with pencil and paper.
And that's exactly how it should be.